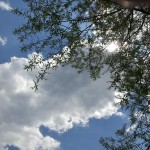 There are millions of moments in life
Most of them pass us by unnoticed
Many of them we squander
As we desperately cling to the few moments
That make us feel alive.
Birds fly by my window,
Each wing flap a moment.
Raindrops fall from the sky,
Each landing a moment.
My eyes roam the landscape,
Each blink a moment.
All these moments
In the same moment.
All these moments
Lost in the sum of all moments.
Like a spiderling floating in the wind,
I've found the perfect balance
Of being in a moment between moments,
If only for a moment.