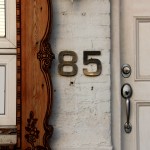 I started this blog as a testament to all the beauty there is in this world, that often we pass by without noticing, distracted by so many things.  Beauty that sparkles, triggers smiles, is sometimes plain silly but always uplifting.
I've always believed that the world and life is what it is at any given point. It is us who decide how we want to interpret everything.
So, what was beautiful and what am I grateful to have witnessed today?
1.
A person very dear to me who herself as struggled very much over the last years, sent me a card for my birthday. But more than the pretty card, it was her new address on the back of the pink envelope that made me smile. The address represented the first mile marker in her new journey and it was fully hers and hers only. I know she has waited a very long time for her independence and sacrificed a lot to get it. Funny how she decided to settle down in YEA(H!)lmpton.
2.
"I miss you".
Left on my voice-mail with the request to meet up soon.
3.
A great conversation with an old friend who I have neglected terribly over the years. Being able to still connect and share a part of our lives together, with the comfort of having known each other and our families for such a long time is priceless.