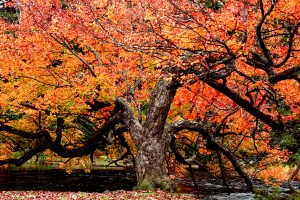 photo @spasmicallyperfect (Click for larger View)

I've always loved trees. I think it is because of the giant pine tree in my parent's backyard, just outside my window. It grew with me, until it finally tickled the stars. It listened to my thoughts as I sat on the window sill pretty much every night during my early teenage years, dreaming of the future, worried about fitting in and of course, longing for the boys who occupied my heart to fall in love with me.
My father chopped it down eventually since its roots started to tear up the neighbor's drive way. I was one of the rare, good teenagers, but I rebelled about that plan. Surely there had to be another way! There apparently wasn't for not only did it bug the people next door, it also apparently cast too much shade onto our house….. I didn't speak with my father for almost a week and as my fingers run over a sliver of bark that I stuck into an old journal, I still feel sad.
But this is not about being sad, this is about celebrating trees. This Fall I finally managed to take a shot of my favourite tree up in the Muskoka area. It was a beautiful moment with a beautiful view. What better way to remember it than to post it?