Sometimes post ideas pop out of nowhere. Like right now. I was on the way to take a shower after another beautiful hot day in Toronto. Certain things have to come off first and before you think of anything that isn't appropriate for children, well, I didn't get there.
The first things I removed were my earrings and necklace. I don't know why but today they caught my attention and made me smile. They have been in my possession for 17 years now and it is a true miracle that still in their original condition. I haven't lost any of the earrings or the earring backs nor has the necklace ever broken.They proved me wrong.
My mind travels back to that late summer afternoon where my Mum and I were shopping on the famous Bahnhofstrasse in Zurich. I am not sure whether Audrey Hepburn had anything to do with it but one of my Mother's most favorite stores is the one that wraps its products in fancy turquoise boxes and ties a white ribbon around them. So it wasn't anything out of the ordinary that the two of us found ourselves standing outside of Tiffany's that day.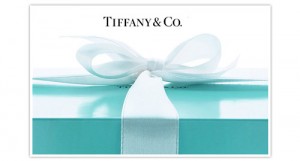 "Let's go in", she surprised me with her spontaneous resolve. At 19 having grown up with plenty to keep me safe, fed, decently dressed but not much more than that, a store like Tiffany's where you actually had to ring the bell to be let in, shattered my feeble confidence. Not that a 19 year old would admit that.
"It's neither your nor my birthday and Christmas is a long way away. So without anything to celebrate, I am really not sure why you need to go tempt yourself", I spoiled her enthusiasm. Or so I thought.
"Actually, there is something to celebrate. You have just graduated and earned your business degree. I think it is time, you bought yourself a nice piece of jewellery."
Before I could even start to utter any of the objections my mind had lined up, she had already rang the bell and an impeccably dressed gentleman in a suit let us in. The one thing scarier than following my Mum was causing a scene by refusing to enter. Once inside my Mother started looking at the display cases while I quickly assessed how many people recognized us being completely out of place. Well, actually, my Mother is never out of place, if anybody it was me in jeans and a well worn blouse. Then I remembered the story of the billionaire that got kicked out of a luxury car dealership because the sales rep mistook his raggedy look for a lack of finances. The billionaire went across the street and bought two cars with a six digit price tag each, waving to the first sales guy as he drove one of them off the lot.
I held my head up high and focused on the display cases.
"Mum, I am not going to buy anything in here!", I whispered. "I don't need any jewellery, I don't even like it, and I definitely cannot justify spending that amount of money."
"You are worse than your father", she grumbled. "You are a young lady now, a professional and need to wear appropriate jewellery."
There was no point in holding up my Movado watch which I had been given for my confirmation. I absolutely hated when she started playing the 'lady' card, if there was something very clear about my persona is that I was not a 'lady'. I did not want to be. I wanted to be confident, smart and naturally beautiful without having to rely on make-up, clothes and jewellery to be accepted.
Nowadays that mindset makes me grin. It was true on a theoretical level however as an insecure teenager, one that was teased for being overweight, too tall and overall a bit of a slob, that mindset was shallower than the sea of Azov. But I defended it with all my might.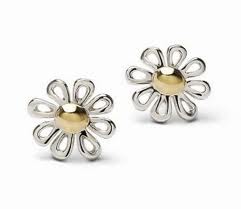 My mother kept pointing out pieces and I stayed stubborn. Then I saw the daisies. The golden daisies seemed simple, natural, beautiful and sunny all at the same time. Of course it didn't take my mother one wasted breath to ask one of the sales ladies to try them on. Within no time I had daisies in my ears and one around my neck.
Half an hour later we were standing back outside the store, my Mum with a proud smile on her face, myself with horror written all over mine.
"I really don't want these. Do you know how many starving children I can feed with this money? I haven't bought anything with this price tag in my life and surely nothing as trivial as jewellery. Do you know how few people in this world can actually afford such a purchase? This is not me, this is you. I am taking them back! On top of everything else I constantly loose stuff and I can't afford loosing these!"
My mother had the upper hand that day. It was one of the last times. Ask her today and she'll confirm that I am as stubborn as ever when it comes to spending money on 'ladylike' things. Of course that is her opinion. As far as I am concerned, I don't want to be a lady but prefer confident, smart and naturally beautiful woman. I still splurge on beauty once in a while. But rarely and never because I have to. I have never again bought anything at Tiffany's, but I am not opposed to someday doing so again for myself or anybody else if the occasion is right.
I still love my daisies. Not because they are Tiffany nor because Paloma Picasso designed them (although I do think that's kind of cool). My mother gave me a tear shaped Tiffany necklace a few years later for another celebration. I love that one too.
But not as much as my daisies. Apart from being beautifully happy, they remind me of my first, rather painful, experience with the concept of 'being worth it'. And because they to this day they remind me of how fortunate I am and not to take it for granted.