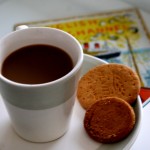 Woke up this morning to a beautifully sunny Sunday morning with a chest heavy with doubts, questions and nostalgic feelings.
Made myself a cup of tea. Which didn't help as much.
So Plan B: Inspirational Brainwash
When I can't do it myself, I have to find other ways of getting it done.
Watch Gary (watched him so many times, we are on first name basis now):
Feeling more pumped already!